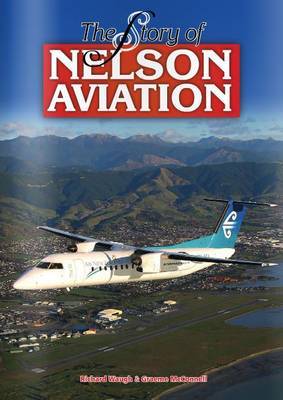 $40.00
NZD
Category: Aviation
Aviation's influenece on Nelson has been profound. With challenging road access, no rail link and the barrier of Cook Strait, Nelson had the reputation of being a 'sleepy hollow'. It was isolated and in some way still is, yet has never been the same since the first aircraft visit in 1921. After aero clu b beginnings, a pioneering scheduled airline was established at the Stoke Airfield in 1935. The opening of Nelson's new airport at Tahunanui in 1938, close to the city centre, was a key milestone for the region's social, economic and tourism future. The airport led to a wartime air force station and a growing post-war airline scene. It became the main commercial aviation centre for the upper South Island, including helicopter work. Illustrated by many rare photographs, this book tells the story of Nelson aviation - its aircraft, personalities, innovations and events - and how it helped develop the whole sunny province. Nelson Airport serves more than 750,000 passengers annually, is the hub for the country's largest regional airline and is the fourth busiest airport for scheduled flights in New Zealand. ...Show more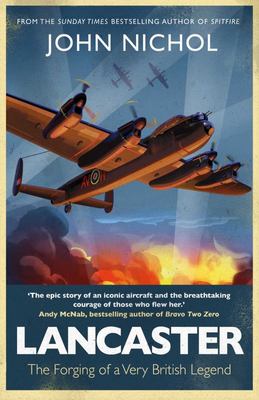 $38.00
NZD
Category: Aviation
'The epic story of an iconic aircraft and the breathtaking courage of those who flew her' Andy McNab, bestselling author of Bravo Two Zero 'Compelling, thrilling and rooted in quite extraordinary human drama' James Holland, author of Normandy 44 From John Nichol, the Sunday Times bestselling author of S pitfire, comes a passionate and profoundly moving tribute to the Lancaster bomber, its heroic crews and the men and women who kept her airborne during the country's greatest hour of need. 'The Avro Lancaster is an aviation icon; revered, romanticised, loved. Without her, and the bravery of those who flew her, the freedom we enjoy today would not exist.' Sir Arthur Harris, the controversial chief of Royal Air Force Bomber Command, described the Lancaster as his 'shining sword' and the 'greatest single factor in winning the war'. RAF bomber squadrons carried out offensive operations from the first day of the Second World War until the very last, more than five and a half years later. They flew nearly 300,000 sorties and dropped around a million tons of explosives, as well as life-saving supplies. Over 10,000 of their aircraft never returned. Of the 7,377 Lancasters built during the conflict, more than half were lost to enemy action or training accidents. The human cost was staggering. Of the 125,000 men who served in Bomber Command, over 55,000 were killed and another 8,400 were wounded. Some 10,000 survived being shot down, only to become prisoners of war. In simple, brutal terms, Harris's aircrew had only a 40 per cent chance of surviving the war unscathed. Former RAF Tornado Navigator, Gulf War veteran and bestselling author John Nichol now tells the inspiring and moving story of this legendary aircraft that took the fight deep into the heart of Nazi Germany. ...Show more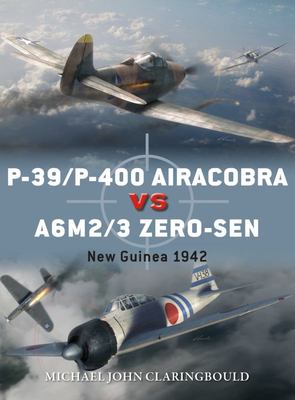 $35.00
NZD
Category: Aviation | Series: Duel Ser.
After the huge advances made in the early months of the Pacific war, it was in remote New Guinea where the advance of Imperial Japanese Naval Air Force (IJNAF) A6M Zero-sen fighters was first halted due to a series of offensive and defensive aerial battles ranging from treetop height up to 30,000 ft. In itially, the IJNAF fought Australian Kittyhawks, but by May 1942 they had fought themselves into oblivion, and were relieved by USAAF P-39 and P-400 Airacobras. The battles unfolded over mountainous terrain with treacherous tropical weather. Neither IJNAF or USAAF pilots had been trained for such extreme conditions, incurring many additional losses aside from those that fell in combat. Using specially commissioned artwork and contemporary photographs and testimony, this fascinating study explains how, despite their initial deficit in experience and equipment, the Airacobras managed to square the ledger and defend New Guinea. ...Show more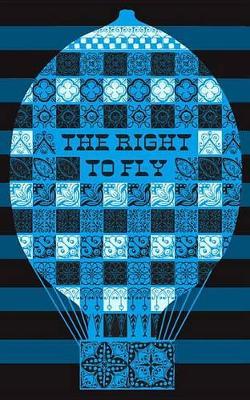 $14.99
NZD
Category: Aviation | Series: The London Library
"If I am dreaming, let me dream on, - but I defy any one to awaken me! - Let me contemplate the air studded with barques travelling with such rapidity as to humiliate the Ocean and all the locomotives of the Earth!" The first balloon flight with passengers (a sheep, a duck, and a rooster) took place on 19th September 1783. On 4th October 1863, Nadar's giant balloon "Le Geant" had its first ascent; the second (and nearly fatal) was two weeks later. A curiosity both for its content on theories of flight and its author, an important pioneer of French photography and skilled self-publicist, The Right to Fly indicates the interest taken by many at the time in the possibilities of human flight - and the Victorian passion for discoveries and invention. The Right to Fly is part of 'Found on the Shelves', published with The London Library. The books in this series have been chosen to give a fascinating insight into the treasures that can be found while browsing in The London Library. Now celebrating its 175th anniversary, with over 17 miles of shelving and more than a million books, The London Library has become an unrivalled archive of the modes, manners and thoughts of each generation which has helped to form it. ...Show more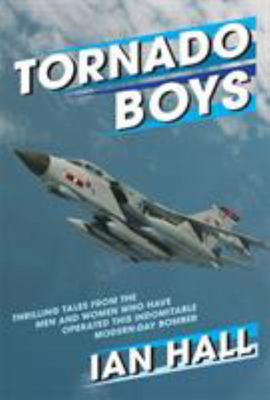 $35.00
NZD
Category: Military | Series: The\Jet Age Ser.
Tornado Boys is the latest in the ever--popular 'Boys' series, and differs from earlier titles. With the introduction of female pilots to the RAF in 1994, the Tornado was among the first aircraft to be flown by both men and women. This is acknowledged in the book with a chapter written by one female pil ot. Another aspect that makes this book different from the rest of the series is that it covers an aircraft which is still in active service, currently as a key player in Middle East operations. With focus on the GR1/GR4 versions of the Tornado (and not the F3 interceptor), readers will enjoy fascinating insights on what it is like to operate this multi--role bomber/reconnaissance aircraft against the backdrop of modern--day scenarios. The book starts in the 1970s with stories from operators of the Tornado as a Cold War nuclear deterrent and with tales of later 'hot' wars as seen by operational leaders in both Gulf conflicts and in Kosovo. There are also stories of Scud hunting in Iraq and of Red Flag exercises in the US, as well as of a stunning competition victory over the USAF's Strategic Air Command in their own backyard. The short--lived anti--shipping role is not neglected. With the transformation of the Tornado to GR4 standard, the book continues with chapters covering active service in support of Britain's increasingly complex international commitments and the employment of new weaponry and sensors. The various operational training patterns over the years are discussed by instructors, while there are tales from those who flew Tornados on exchange, loan and contract service with foreign air forces. Finally the book highlights the essential part played by ground crew in the Tornado story, with chapters by front--line engineers and an army ground liaison officer. All in all, through the eyes of the men and women who have operated this extraordinary aircraft, the volume presents an entertaining and illuminating series of tales and anecdotes. These light and informative stories come from those who were proud to serve on and loved to operate the impressively versatile Tornado. ...Show more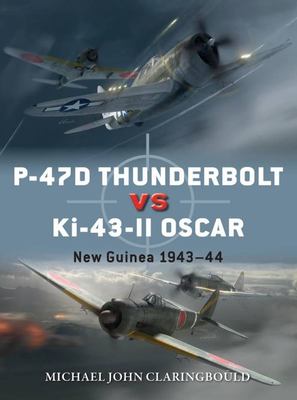 $35.00
NZD
Category: Military | Series: Duel Ser.
An extensively researched and accurate examination of the eight-month confrontation between two key World War II fighter planes in New Guinea. Although New Guinea's Thunderbolt pilots faced several different types of enemy aircraft in capricious tropical conditions, by far their most common adversary w as the Nakajima Ki-43-II Hayabusa, codenamed "Oscar" by the Allies. These two opposing fighters were the products of two radically different design philosophies. The Thunderbolt was heavy, fast, and packed a massive punch thanks to its battery of eight 0.50-cal machine guns, while the "Oscar" was the complete opposite in respect to fighter design philosophy--lightweight, nimble, maneuverable, and lightly armed. It was, nonetheless, deadly in the hands of an experienced pilot. The Thunderbolt commenced operations in New Guinea with a series of bomber escort missions in mid-1943, and its firepower and superior speed soon saw Fifth Air Force fighter command deploying elite groups of P-47s to Wewak, on the northern coast. Flying from there, they would pick off unwary enemy aircraft during dedicated fighter patrols. The Thunderbolt pilots in New Guinea slowly wore down their Japanese counterparts by continual combat and deadly strafing attacks, but nevertheless, the Ki-43-II remained a worthy opponent deterrent up until Hollandia was abandoned by the IJAAF in April 1944. Fully illustrated throughout with artwork and rare photographs, this fascinating book examines these two vastly different fighters in the New Guinea theater, and assesses the unique geographic conditions that shaped their deployment and effectiveness. ...Show more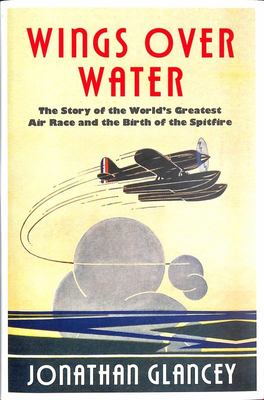 $45.00
NZD
Category: Aviation
The thrilling story of the Schneider Trophy, a series of glamorous air races that captivated both sides of the Atlantic and became a driver and celebration of speed and engineering prowess.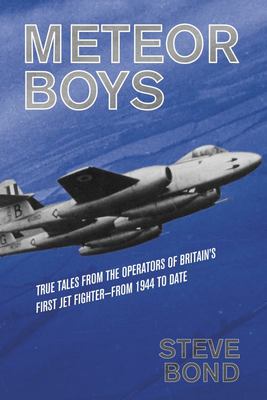 $35.00
NZD
Category: Military | Series: The\Jet Age Ser.
Grub Street is proud to present Meteor Boys, the latest title in its ever--popular Boys series. As Britain's first jet fighter, the Gloster Meteor has had a remarkably varied and lengthy life. But whilst many books have focused on its development and service history, the time has come to hear the person al experiences of its air and ground crews. By interviewing over fourty veterans, author Steve Bond has written an incredibly detailed insight into this iconic aircraft, which is supported by anecdotes and accounts from those who knew it best. One example is Alan McDonald who described the Meteor as 'a bit unforgiving if you got it wrong, as many pilots found out to their cost, especially on one engine, but I must admit I got to like it very much ? it was a great adrenalin rush.' Alongside these entertaining anecdotes are details of the Meteor's origins and developments. Starting with the first deliveries in 1944 working through to the present day, Steve Bond documents the diverse role which the Meteor has had. From use in operations against the V1, photo--reconnaissance missions, as a training machine and later a display aircraft -- particular attention is given to its major service period of the 1950s through to the early 1960s. The book will also feature photographs never seen before in print. This detailed history of this iconic and much loved jet fighter will appeal to all aviation fans. ...Show more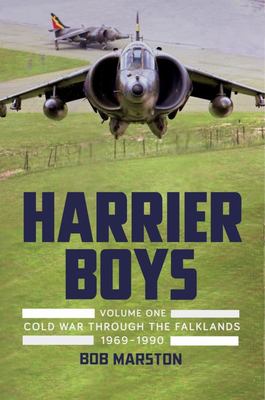 $35.00
NZD
Category: Military | Series: The\Jet Age Ser.
In Harrier Boys, Volume One: Cold War Through the Falklands, 1969--1990, Bob Marston, who flew Harriers for many years, draws together accounts from others who worked with this unique jet through its history. The excitement, camaraderie and pride of Harrier operators shine through in the personal storie s of those whose lives were changed by their experience of this iconic aircraft, both on land and at sea. In this first volume, events of the Cold War years are brought to life by contributors including Graham Williams, who flew the Transatlantic Air Race, Peter Dodworth, a member of the original Harrier Conversion Team, Peter Harris, a participant in the early defence of Belize, Sir Peter Squire, OC 1 (F) Squadron during the Falklands conflict, and Australian Dave Baddams, who commanded the Royal Navy Sea Harriers of 800 Squadron. ...Show more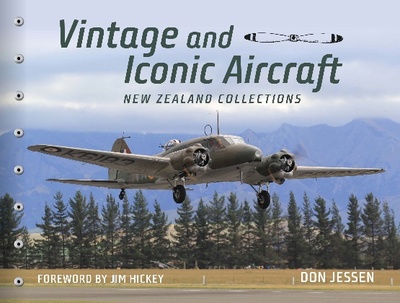 $50.00
NZD
Category: Aviation
Vintage and Iconic Aircraft - New Zealand collections is a snapshot of how much we love to fly, of how much our country was made for flying, and is a wonderful "pilot's pot-pourri" of pictures and rich little stories.' - Jim Hickey New Zealand is home to a world-class collection of iconic and vintage ai rcraft. Don Jessen profiles more than 60 aircraft, tells the tales of the pilots who fly these vintage machines, and showcases some of our excellent aviation museums, including Sir Peter Jackson's World War I collection. Starting with Richard Pearse's story and a faithful reproduction of his plane, Don includes the fighters of World War I, and the civil aircraft of the thirties, including the DC3, the Waco and Tiger Moth. Moving to the bombers and fighters of World War II, he includes, amongst others, the Hudson, the Spitfire, the Avro Anson and the newly restored Catalina Flying Boat, and iconic post war aircraft such as the Hercules, the Orion, the Yak 52, and several jet fighters. 'I have met so many incredible characters and brilliant pilots, who have built stunning reproductions of vintage aircraft, restored original aircraft, and collected and fly wonderful old planes,' says Don. 'They are a breed apart. Just watching these aircraft fly can transport you back in time, and you wonder at the technology of the period, the bravery of the pilots, and what it must have been like to have been a pilot or aircrew in those times. My father was an aircraft engineer in World War II, and worked on Tiger Moths, Kittyhawk fighters and Hudson bombers, and my uncle was a Lancaster pilot. I grew up listening to fascinating stories about these iconic aircraft, and recently I actually sat in the remains of the Hudson bomber we believe is the plane my father was shot up in.' Vintage and Iconic Aircraft also features New Zealand's three major airshow events. Sir Peter Jackson's passion for World War I fighters and The Vintage Aviator Limited have produced an internationally recognised collection of aircraft from this era, which features in the Wings over Wairarapa Airshow. The Classic Fighters Omaka Airshow and Warbirds over Wanaka Airshow draw enthusiasts from around the world and frequently feature The Roaring Forties Harvard display team, based in Ardmore, and the Yak 52 aerobatic team. ...Show more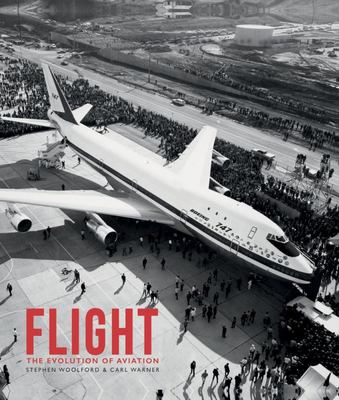 $45.00
NZD
Category: Aviation
Witness the daring exploits and dangerous challenges that form the story of flight in this beautifully illustrated book, filled with rare photographs and historical documents. Published in the year that marks 50 years since the first flight of the Boeing 747 and of Concorde, it describes the early pione ers, such as the Wright brothers and Alcock & Brown, as well as the highly skilled engineers developing aircraft today. From the early hot-air balloons of the Montgolfiers to the complex technology behind military jets and space rockets, this book looks at how flight emerged as a new means of military combat and how it became the leading mode of international travel, all in the space of less than a century. ...Show more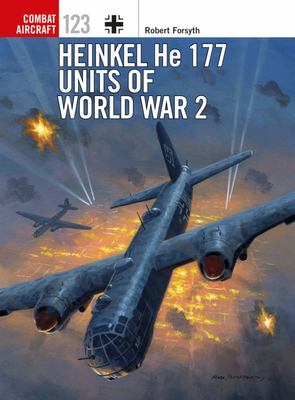 Heinkel He 177 Units of World War 2
by Robert Forsyth; Jim Laurier (Illustrator); Mark Postlethwaite (Cover Design by)
$28.00
NZD
Category: Aviation | Series: Combat Aircraft Ser.
In many ways, the Heinkel He 177 'Greif' (Griffon) was Nazi Germany's 'lost' strategic bomber. With some fundamental creases ironed out, and built in large numbers, the He 177 would have offered the Luftwaffe the means with which to carry out long-range, mass bombing attacks against targets of a strateg ic nature. Although competing interests and personalities served to prevent this from happening, from mid-1943 the aircraft nevertheless saw service over England, the Atlantic, the Mediterranean and in Russia. The He 177 flew to the end of the war, with some machines undertaking extremely hazardous low-level missions against Soviet armour in Poland in late 1944-45. This fascinating book, filled with detailed artwork and contemporary photographs, tells the story of this aircraft, including the political infighting at the top of the Luftwaffe 's hierarchy that stymied its development, its radical technical design and its state-of-the-art weaponry. ...Show more