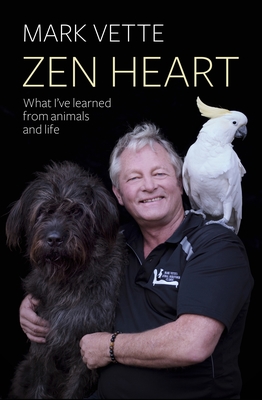 $40.00
NZD
Category: Biography / Memoir
A cheeky baboon, a cockatoo sending a heading dog out to round up sheep, a family of pukekos crossing the road, a dog saying 'bugger', an octopus taking a photo. Think of an ad you love, or a New Zealand-made movie, and if it has an animal in it chances are Mark Vette was behind it. He's trained almost every species you can think of. But the famous animal behaviourist and trainer who captured global attention with 'Dogs Who Drive Cars' and 'Dogs Who Fly Planes' is not just an animal maestro. He's a long-time Buddhist, who brings to his relationships with animals a true emotional bond, enormous respect, and the sure knowledge that we humans are just one piece of this great, interconnected puzzle we call Life on Earth. This is his story, and the stories of the animals he has worked with over the decades. From a classic Kiwi childhood of outdoor activities and sport, with plenty of time on the farm, through a growing conviction that killing animals wasn't for him, to his embracing of Buddhism and his developing work with animals of all kinds, Mark's life and beliefs unfold in a thoroughly relatable way - with jaw-dropping and laugh-out-loud moments thrown in. ...Show more
$90.00
NZD
Category: Animals
A magnificent tribute to the New Zealand horse, documenting its pivotal role in the development of the early colony, in farming, transport, war, sport and in our affections. Writer Deborah Coddington and photographer Jane Ussher capture the strength, beauty and mystery of the horse across New Zealand, f rom bareback beach riders in the far north and huntsmen in Hawke's Bay, to the Otago high country, the stud farms of the Waikato, the wild horses of the Kaimanawas, film horses, dressage horses and many, many more. Warmly and expertly written, and including a range of historical images, this magnificent book is brought to startling life by the astounding photographs of Jane Ussher. ...Show more
$30.00
NZD
Category: Animals | Series: Animal Happiness Ser.
Pigs rock And more and more people -- including superstars such as George Clooney and Miley Cyrus -- have discovered all the delightful characteristics that make them such endearing pets. Pigs are smart, they can learn tricks, they're actually incredibly clean, and they're communicative, social animals. Oink is celebration of these wonderful creatures and the perfect gift for anyone who has ever fallen under a pig's spell Featuring memorable quotes from people such as Winston Churchill, George Bernard Shaw, John Howard, Shelley Duvall and A.A. Milne, each accompanied by a beautiful photograph, this is a book that's guaranteed to make you smile. ...Show more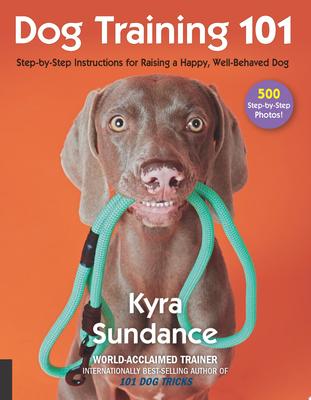 $28.00
NZD
Category: Animals
Whether you're welcoming a new puppy into your family or want to help your best friend overcome fears or problem behaviors, internationally renowned dog trainer and best-selling author Kyra Sundance presents your essential reference for positive dog training. Using a visually driven, playful presentati on, Dog Training 101 offers step-by-step instructions to train your pup to be a happy, attentive, and well-mannered canine. You will use positive training methods--including humane counterconditioning and positive redirection--to build a joyful relationship with your dog, who will become a willing partner in the process. Teach your dog basic commands, such as: Sit Down Stay Come Drop it Leave it Learn real-world tactics for managing common household problems, such as: Leash pulling Jumping on visitors Begging at the table Getting into the trash can Growling Peeing (submissive, excited, and marking) Kyra will also help you teach your pup to overcome common fears, among them: Loud sounds Being left alone Certain people Vacuum cleaner The bathtub This comprehensive guide also includes step-by-step advice for bringing a new dog into your household preparing for a new dog's arrival, tips for a smooth transition into the household, introducing him or her to your family, and acclimating your dog to his or her new world.Fun games you can play with your dog offer both opportunities for bonding and a chance to practice rules and boundaries within a defined structure. A "Good to Know" chapter offers an array of useful information, including the Heimlich maneuver for dogs, a list of weird things dogs do that are perfectly normal, and a list of common poisons. Bond with your dog as you strive toward common goals with Dog Training 101. ...Show more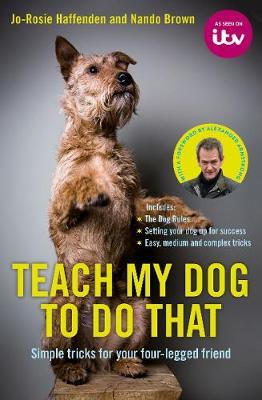 $20.00
NZD
Category: Animals
Join Jo-Rosie Haffenden and Nando Brown, the animal trainers from ITV's Teach My Pet To Do That, as they reveal how any dog can learn new tricks This simple, practical guide will have you and your pooch mastering the basics of trick training in no time and opening up a whole new world of fun for both of you. Whether they're shy and retiring, or love the limelight, there's something for every type. Trick-training is a great way to get to know your dog better, deepen your bond and help keep them keep fit and stimulated. Full of hints, tips and photographs and taking you from the very simplest training fundamentals to show-stopping tricks like "Dog Yoga" and "Tidy Your Toys", the only limit to where you end up is your imagination. ...Show more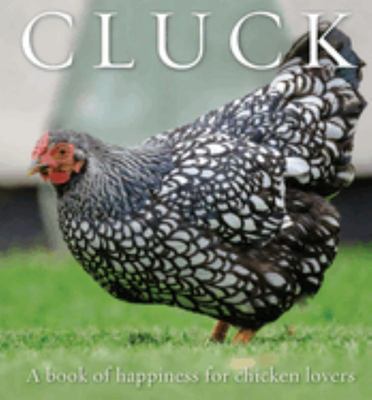 $15.00
NZD
Category: Animals | Series: Animal Happiness Ser.
Any chicken owner will know that there's more to these endearing, quirky, clever characters than the eggs and meat they produce. Cluck is a celebration of hens, roosters and chicks, combining high-quality photography with inspirational and amusing quotes to create the perfect gift for chicken fans. Som e of the collection's quotations come from famous people (Oscar Wilde, C.S. Lewis, Mark Twain, Plutarch), others don't; some are philosophical, others light-hearted -- all are memorable. Accompanied by beautiful pictures of a variety of these farmyard birds, from Plymouth Rocks and Orpingtons to Welsummers and Silkies, this collection of quotes and proverbs will steal any chicken lover's heart. ...Show more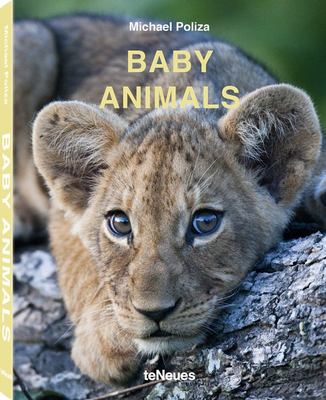 Baby Animals
by Michael Poliza (By (photographer))
$35.00
NZD
Category: Photography
From lion cubs in Botswana to baby chimpanzees and gorillas in Tanzania, penguin chicks on the Antarctica peninsula to polar bears in Canada, Poliza travels the world in search of the most endearing and evocative portraits of wildlife babies.
$35.00
NZD
Category: Animals
Getting a dog is exciting, but it also means you are in charge. With the help of Vanessa Estrada Marin, the director of a popular dog training program for kids, you will have fun taking the lead! Dog Training for Kids breaks down lessons and tutorials into simple steps and easy-to-follow instructions. Y ou will have everything you need to be an awesome and responsible dog guide: Basic Training Lessons including Potty & House Training, Obedience Training, Leash Training, and Crate Training, Essential Commands including Sit, Stay, Heel, and Drop It, Clever Tricks including Roll Over, Speak, High Five, and Leap, Super Fun Games including Obstacle Course, Frisbee, and Tunnel, And More! Equipment lists, tips on training your dog to be calm at the vet, and way to dog-proof your home Whether you are raising a puppy, adopting a rescue, or getting your first dog, this book will teach you to properly train, take care of, and establish a lasting bond with your furry pal. Book jacket. ...Show more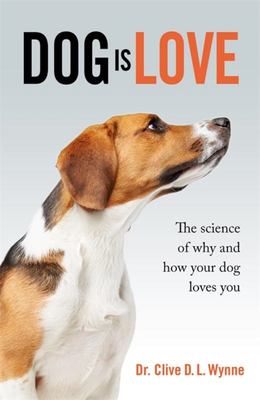 $38.00
NZD
Category: Animals | Reading Level: near fine
'Science finally reveals the dog's secret: the unique capacity for love that separates them from all other animals. Superb' - John Bradshaw, bestselling author of In Defence of Dogs and Cat Sense 'If you want to build an even stronger bond with your own dog, this book is a must read' - Victoria Stilwell , author of The Secret Language of Dogs 'This book will change the way you look at dogs' - Hal Herzog, author of Some We Love, Some We Hate, Some We Eat: Why It's So Hard to Think Straight About Animals _______ What makes dogs truly special? Why does our relationship with them feel so much more deep and intense than with other animals? Any dog owner knows that the bond with their dog is unique. The unparalleled loyalty and total devotion of a dog seems the stuff of true love - but is this a whimsical construction that bears little relation to reality? Through ground-breaking scientific experiments and eye-opening historical evidence, canine behavioural psychologist Dr Clive Wynne unlocks the secret to our unique bond with dogs: their capacity to love, an unprecedented attribute in the animal kingdom. In Dog is Love, Dr Wynne debunks the myth that dogs possess a unique form of intelligence. Instead, he shows that dogs are able to show sympathy and can respond to human emotions in a way that is truly remarkable. One particularly moving study shows that dogs' and their owners' hearts beat in synchrony, just as the hearts of a loving human couple do. Looking at the evolution of dogs, Dr Wynne points out that it was the wolves' ability to form relationships with mankind, becoming indispensable hunting companions, that enabled the depth of love and affection between dogs and humans that we know today. Dr Wynne shares his experiences of hunting with the Mayangna tribe in Nicaragua and the vital role played by their hunting dogs to shed light on what the early human-dog relationship might have looked like, and explains the science behind what really goes on when a young pup grows up in a human family. This is a delightful, heart-warming and fascinating analysis of the unique bond between humans and dogs, perfect for anyone who shares their home with their dog and wonders just how much they love you. It will change the way you interact with dogs and help you get the best out of them in a way that will be truly life-changing. ...Show more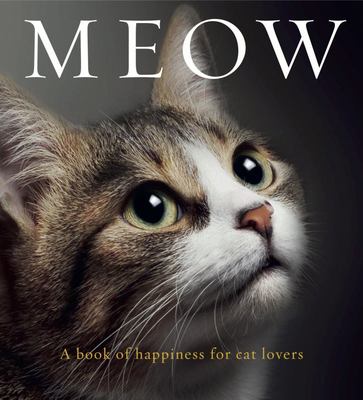 $18.00
NZD
Category: Animals | Series: Animal Happiness Ser.
Cats have a way of walking into our lives and making themselves right at home. No cat lover can imagine life without a feline presence -- even if it is only as fleeting as the occasional conversation with a neighbourhood stray. Meow: A book of happiness for cat lovers is a compendium of delightful quote s that capture the essence of this fascination. Some are by famous people (Mark Twain, Jean Cocteau, Ernest Hemingway), others not; some are philosophical, others light-hearted -- all are memorable.Accompanied by beautiful photography, and presented in a high-quality gift format, this is a collection of quotes to treasure. New in paperback. ...Show more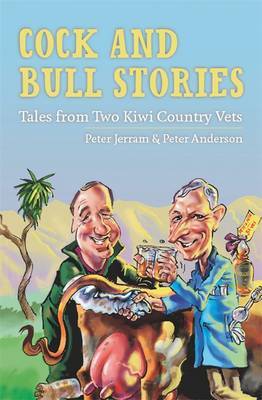 $40.00
NZD
Category: NZ - Biography
Humorous heartland stories from two New Zealand country vets. Peter Anderson and Peter Jerram have rounded up a selection of highly entertaining yarns about the animals, and owners, they've come across during their more than thirty years in practice together. Among these hard case and humorous tales are stories of a narrowly escaped attack from a lame bull, a tough pig hunter who fainted at the sight of a syringe, a young green vet confronted by a bull with a prolapsed prepuce, and chasing clients reluctant to cough up. These two Marlborough vets treat both large and small animals and Peter Anderson is known locally as the flying vet, visiting clients in the back country of Marlborough and North Canterbury. These glimpses into the reality of a rural vet's life are essential reading for animal lovers or anyone interested in stories from the heartland of New Zealand. ...Show more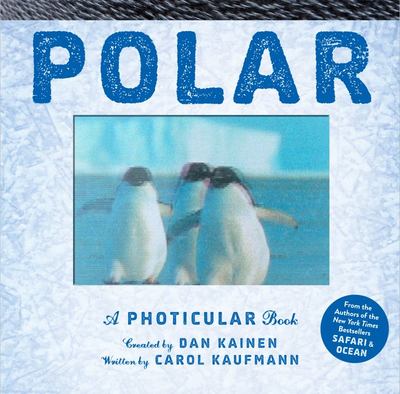 $65.00
NZD
Category: Animals | Series: Photicular
Take a stunning journey to the ends of the earth through the colorful, fluid motion of Photicular® technology. A phenomenon first seen in the bestsellers Safari and Ocean, Photicular technology uses sliding lenses and video imagery to display realistic living motion in the pages of a book. It's like a m ovie in your hand. Penguins waddle in their irresistibly happy way. A walrus lumbers across the snowy landscape. There's a polar bear with her lively cubs. A beluga whale, breaching. A team of sled dogs sprinting directly at the viewer. And the miracle of the Northern Lights, shimmering like a silk rainbow through the star-filled night. National Geographic writer Carol Kaufmann brings the reader along on a voyage to the North and South Poles, and writes a lively and informative essay for each image, including vital statistics for each animal, such as their size, range, habitat, and more.   ...Show more