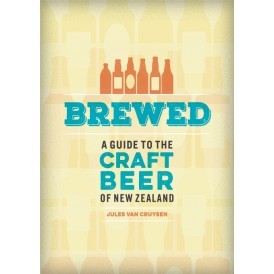 $39.99
NZD
Category: Wine, Beer & Spirits | Reading Level: Very Good
The New Zealand beer industry is a dynamic one – full of larger-than-life, passionate characters; from loveable rogues through to budding mad scientists. Our beers are just as diverse. Bringing together brewing traditions from all over the world and combining these with Kiwi ingredients, ingenuity and c reativity, we have a beer culture unlike any other. In the last five years the New Zealand beer industry has grown dramatically. This book, which acknowledges the craft beers and brewers of New Zealand, is well overdue. Brewed is a snapshot of an industry creating beers that are full of character. Beers range from classical to crazy (Lamb Chopper anyone?), refined to quintessentially Kiwi (fancy a CHUR?) and aggressive (Sauvignon Bomb) to the suggestive (Morning Glory). Brewed will encourage experimentation among engaged beer consumers, helping them to discover new breweries and, with the use of the comprehensive tasting notes, benchmark them against old favourites. It will also help emerging beer drinkers to identify beers they will enjoy, starting them on a journey of discovery. ...Show more
$40.00
NZD
Category: Travel - Narratives
In the late 1990s, John Baker was known as a purveyor of quality rare and old wines. Always entrepreneurial and up for adventure, John was the perfect person for an occasional business partner, Andrew Simon, to approach with a mysterious wine list that was foreign to anything John, or his second-in-comm and, Kevin Hopko, had ever come across. The list was discovered to be a comprehensive catalogue of the wine collection of Nicholas II, the last Czar of Russia. The wine had become the property of the state after the Russian Revolution of 1918, during which Nicholas and his entire family were executed. Now owned by Stalin, the wine was discretely removed to a remote Georgian winery when Stalin was concerned the advancing Nazi army might overrun Russia, and inevitably loot artefacts and treasures. Half a century later, the wine was rumoured to be hidden underground and off any known map. John and Kevin embarked on an audacious, colourful and potentially dangerous journey to Georgia to discover if the wines actually existed; if the bottles were authentic and whether the entire collection could be bought and transported to a major London auction house for sale. Stalin's Wine Cellar is a wild, sometimes rough ride in the glamorous world of high end wine. The cast of characters include Stalin, Hitler, Czar Nicholas II and a motley bunch of Georgian businessmen/cowboys toting handguns, in the early days of Russian business development that led to the world of Putin and oligarchs. ...Show more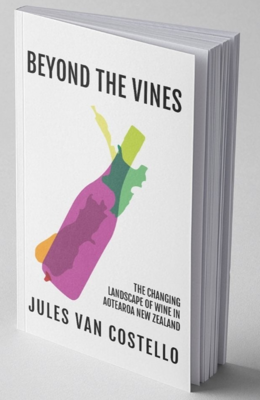 $40.00
NZD
Category: Wine, Beer & Spirits
Beyond the Vines: The Changing Landscape of Wine in Aotearoa New Zealand is a deep dive into the world of wine in Aotearoa - past, present and future. Beyond the Vines profiles 65 of the country's most exciting and innovative producers and explores the wine regions and various grapes we've made our own. It is a look at the strengths and struggles of our unique wine industry and a discussion of some of the challenges it will face in years to come. ...Show more
$40.00
NZD
Category: Wine, Beer & Spirits | Reading Level: near fine
Designed to help the buyer to make informed choices about the best quality wines available, this title is firmly established as the most authoritative and sought-after guide to New Zealand wines. Updated yearly with new tasting notes and ratings, this is a 'must-have' publication for the new initiate an d the established wine-buff alike. Divided by grape variety to help selection, this comprehensive guide includes vintage ratings, star ratings for quality, and a dryness/sweetness guide. Other features include Classic Wines: wines that consistently achieve an outstanding level of quality for at least three vintages. We have now had over 25 years of Michael Cooper's Buyers Guide. About the Author: Michael Cooper is New Zealand's most acclaimed wine writer, with 40 books and several major literary awards to his credit, including the Montana Medal for the supreme work of non-fiction at the 2003 Montana New Zealand Book Awards for his magnum opus, Wine Atlas of New Zealand. In the 2004 New Year Honours, Michael was appointed an ONZM for services to wine writing. Author of the country's biggest-selling wine book, the annual New Zealand Wines: Michael Cooper's Buyer's Guide, now in its 24th edition, he was awarded the Sir George Fistonich Medal in recognition of services to New Zealand wine in 2009. The award is made each year at the country's largest wine competition, the New Zealand International Wine Show, to a 'living legend' of New Zealand wine. The weekly wine columnist for the New Zealand Listener, he is also New Zealand editor of Australia's Winestate magazine and chairman of its New Zealand tasting panel. ...Show more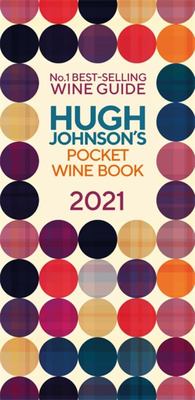 $35.00
NZD
Category: Wine, Beer & Spirits
The world's best-selling annual wine guide. Hugh Johnson's Pocket Wine Book is the essential reference book for everyone who buys wine - in shops, restaurants, or on the internet. Now in its 44th year of publication, it has no rival as the comprehensive, up-to-the-minute annual guide. Hugh Johnson pro vides clear succinct facts and commentary on the wines, growers and wine regions of the whole world. He reveals which vintages to buy, which to drink and which to cellar, which growers to look for and why. Hugh Johnson's Pocket Wine Book gives clear information on grape varieties, local specialities and how to match food with wines that will bring out the best in both. This latest edition of Hugh Johnson's Pocket Wine Book includes a colour supplement on terroir. ...Show more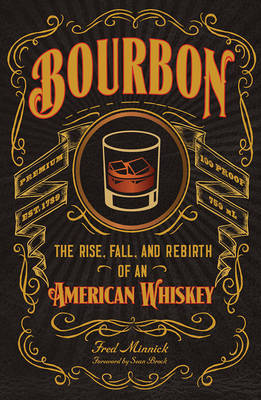 $35.00
NZD
Category: Wine, Beer & Spirits
Once and for all, America learns the likely inventor of its beloved bourbon. Bourbon is not just alcohol -- this amber-colored drink is deeply ingrained in American culture and tangled in American history. From the early days of raw corn liquor to the myriad distilleries that have proliferated around t he country today, bourbon has come to symbolize America. In Bourbon: The Rise, Fall, and Rebirth of an American Whiskey, award-winning whiskey author Fred Minnick traces bourbon's entire history, from the 1700s with Irish, Scottish, and French settlers setting up stills and making distilled spirits in the New World through today's booming resurgence. He also lays out in expert detail the critical role this spirit has played throughout the cultural and even political history of the nation - from Congress passing whiskey-protection laws to consumers standing in long lines just for a glimpse of a rare bottle of Pappy Van Winkle -- complemented by more than 100 illustrations and photos. And most importantly, Minnick explores the mystery of who most likely created the sweet corn liquor we now know as bourbon. He studies the men who've been championed as its inventors over time -- from Daniel Boone's cousin to Baptist minister Elijah Craig - and, based on new research and never-before-seen documentation, answers the question of who deserves the credit. ...Show more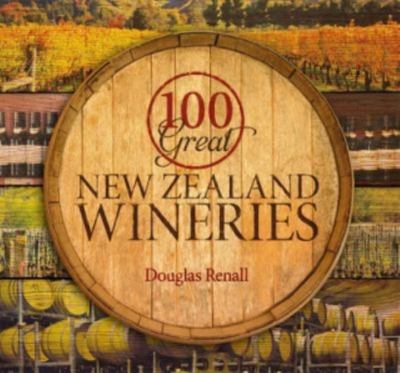 $65.00
NZD
Category: Wine, Beer & Spirits
Highly illustrated, comprehensive guide providing all the essential information to key New Zealand wineries that are open to visitors, featuring 100 of the country's best.
$60.00
NZD
Category: Wine, Beer & Spirits | Reading Level: near fine
Never has there been a more striking revolution in the world of distilled spirits than the current renaissance of gin. With small craft distilleries popping up all over the world, from Texas to Tasmania, more varieties and techniques being used than ever before, and a tapestry of tastes from light and c itrusy to big bold savoury notes, gin's appeal is extraordinarily wide and varied. From gin made in small batches from local botanicals, through to large facilities which make some of the world's most recognized gin brands, World Atlas of Gin looks at everything from the botanical to the bottle: how and where botanicals are grown and harvested and their role within the flavour of gin; producers and the stories behind their brands; exactly where, and how, gins are made; and, country by country, the best examples to try. Global cocktails are covered too, including the history and country of origin of some of the best-known mixed gin drinks. For everyone and anyone who wants to understand more about gin, its history and production methods, the countries that have helped make it a global success story, and appreciate the best gins the world has to offer, this is the definitive guide. ...Show more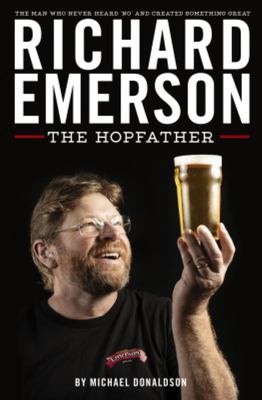 $45.00
NZD
Category: NZ - Biography
Richard Emerson is one of our pre-eminent brewers, a trailblazer who is often lauded as the godfather of craft beer in New Zealand. Born profoundly deaf in 1960s Dunedin, Emerson triumphed against all odds to launch Emerson's Brewery in 1992. He went on to create a string of unique, award-winning beers, spark a cult-following, attract global recognition, and become a millionaire - all from doing something he loved. For Richard, it came after 20 years of unrelenting commitment to the cause of good beer. They were two decades of hard graft, physically and emotionally, of no or low pay, of long hours, during which he watched his father, mentor and friend die just as the business began to stand on its own two feet. This is the story of an adventurous boy who wouldn't let his disability get in the way of what he wanted to do; a boy who literally fought for his place in the world and refused to let anyone tell him 'no'. ...Show more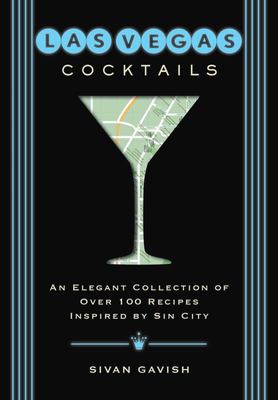 $38.00
NZD
Category: Wine, Beer & Spirits | Series: City Cocktails Ser.
An eye-catching collection of over 100 recipes inspired by Sin City.   Enjoy a sip of Sin City even after you touchdown back home with profiles and recipes from hit mixologists and bartenders that are the life of the nightlife. From casino bars to couture attractions, enjoy recipes that echo the highl ights of Las Vegas in both showmanship and flavor. Drink like a local, even when hundreds of miles away with photographs and design elements from the heart of the strip. City Cocktails profiles some of the most happening cities in the world to give readers a taste of paradise, no matter where they set their glass. ...Show more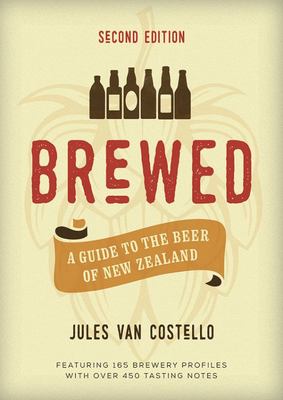 $42.00
NZD
Category: Wine, Beer & Spirits
The New Zealand beer industry is a dynamic one - full of larger-than-life, passionate characters; from loveable rogues through to budding mad scientists. Our beers are just as diverse. Bringing together brewing traditions from all over the world and combining these with Kiwi ingredients, ingenuity and c reativity, we have a beer culture unlike any other. Since the release of Brewed in 2015, the New Zealand beer industry has continued to grow dramatically, which this revised edition takes into account by featuring 45 new breweries, meaning over 160 commercially operating New Zealand breweries are profiled. Additionally, the tasting notes for over 450 beers have been revised and are now in a separate section, divided into beer type, for easier comparison of beers produced by different breweries. Brewed includes a style guide written specifically for the New Zealand craft beer market and has all the information needed to make the increasingly complicated beer world a lot more comprehensible. Brewed will encourage experimentation among engaged beer consumers, helping them to discover new breweries and, with the use of the comprehensive tasting notes, benchmark them against old favourites. It will also help emerging beer drinkers to identify beers they will enjoy, starting them on a journey of discovery. ...Show more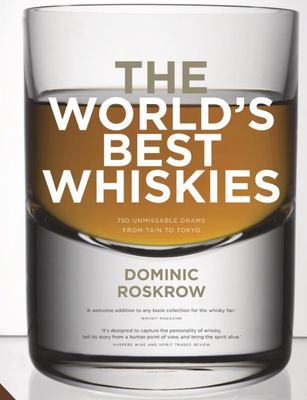 $50.00
NZD
Category: Wine, Beer & Spirits
Revised and Updated. Whisky is one of the world's most revered spirits, with connoisseurs spending a great deal of money and time on the appreciation of rare expressions and limited edition bottles. In addition, many whisky connoisseurs travel direct to the source to see and experience the world's best distilleries at first hand. Since the publication of the first edition in 2010, many changes have occurred in the world of whisky which are fully explored in this completely new edition. Over 200 of the 750 whiskies are updated, along with over 20 of the 38 features to reflect the 'new world of whisky', from the growing US single malt craft distillery movement (including Balcones in Texas), Japan (Yoichi), Taiwan (Kavalan), India (Paul John), Australia (Overeem), France (Warengem) and Sweden (Mackmyra, Spirit of Hven). Aimed at beginners as well as connoisseurs, the book encompasses everything you need to know to increase your appreciation of this complex and fascinating spirit. Iconic distilleries such as Lagavulin, Highland Park and Glenrothes in Scotland are fully explored alongside the bourbon innovators of Kentucky such as Woodford Reserve and Maker's Mark. From global brands to tiny craft distillers, this book offers a comprehensive overview of the best dram the world over. ...Show more