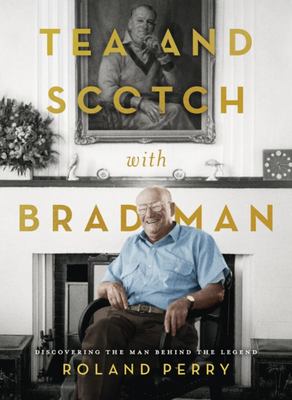 $45.00
NZD
Category: Sport | Reading Level: 3 Biography
Discovering the man behind the legend In 1995, journalist and author Roland Perry wrote to Sir Donald Bradman requesting an interview for a biography he was planning of the great cricketer. Surprisingly, the Don agreed. It was the start of a conversation that continued for years, during which the real B radman shone, not only as a great sportsman but musician, brilliant thinker and humourist with a fondness for tea and a Scotch or two. In Tea and Scotch with Bradman, Perry paints an intimate and revealing portrait of the man many regard as the greatest Australian cricketer of all time. ...Show more
$40.00
NZD
Category: Sport | Reading Level: near fine
How the captains of the last 50 years have gone about leading the world's most successful rugby team. The job of All Blacks captain comes with a scrutiny that puts it alongside the prime minister in terms of profile and public expectation. It takes a strong, confident and assured personality to capta in a team where failure is never tolerated. The Captain's Run is a behind the scenes journey into the world of All Blacks captaincy. It reveals how the great captains dealt with the pressure of the toughest job in world rugby, how they coped with failure, and what they would have done differently, if given their time again. ...Show more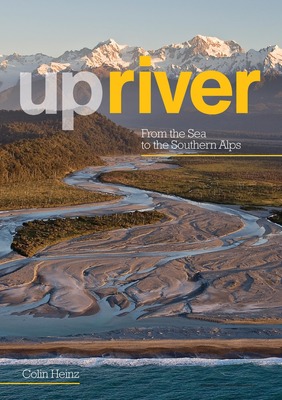 $50.00
NZD
Category: NZ - Guidebooks | Reading Level: near fine
Upriver will appeal to everyone who loves New Zealand's South Island/Te Waipounamu and wants to find out more about the formation of its diverse landscapes and the story of human settlement since the very first landings about eight centuries ago. It will also provide all the information needed by those wishing to retrace the author's footsteps, either in the easily accessible regions of the west or east coasts, or in the more challenging mountainous regions of the South Island/Te Waipounamu. An absorbing blend of trip descriptions laced with background notes about the meaning and significance of places that were encountered, it tells the story of the author's journeys to the principal sources of each of the 24 rivers that flow down to the sea from the Main Divide of the Southern Alps. Each of the 24 chapters in this book paints a full-length portrait of the water catchment areas of the 24 rivers that flow all the way down to the sea from the Main Divide of the Southern Alps/Kā Tiritiri o te Moana, including its highest peaks and lowest Main Divide passes. Those portraits fit together like the pieces of a jigsaw puzzle to form a comprehensive picture of this unique island. Safe backcountry trips require detailed knowledge of the terrain, situational awareness, teamwork, and contingency plans. The backcountry trips that are described in this book were spread over five decades, mainly in late summer-early autumn when weather conditions are usually more favourable. Only experienced, well-equipped parties should undertake them when they go further than river lowlands. ...Show more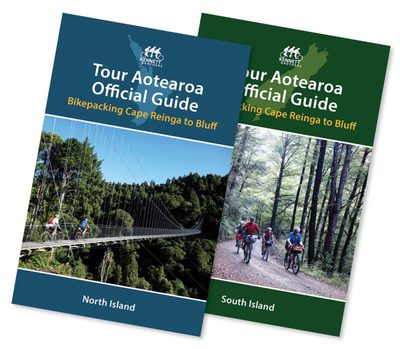 $20.00
NZD
Category: Cycling
Tour Aotearoa is a 300 km bike odyssey spanning the length of New Zealand. This two-volume set provides riders with step-by-step instructions, route maps, and insider tips on hoe to cycle from Cape Reinga down to Bluff.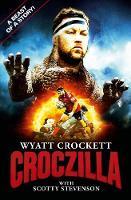 $40.00
NZD
Category: Sport
In the great traditions of New Zealand prop forwards, Wyatt Crockett's stellar professional rugby career has been defined by steely determination and quiet achievement. Now, for the first time, the most capped Super Rugby player of all time is ready to tell the story of his remarkable rugby journey. Cro ckett lifts the lid on the laughs, the lows, the highs and the hilarity of his time at the top of the game. He charts his rise through the ranks of some of the nation's most famous teams and gives us an inside account of the people who shaped him, and the stories that defined him. If you thought props were all grunts and grimaces, prepare to have your perceptions called into question with this rib-tickling read. The man they call `Croczilla' offers a monster of a story, from the frontline of the game. ...Show more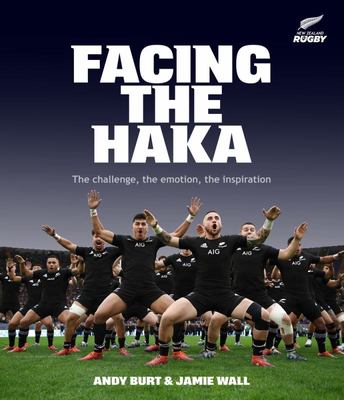 $60.00
NZD
Category: Sport
The story of the All Blacks from the other side of halfway. Big names from all their fiercest rivals talk about meeting the world's most successful rugby team in some of the greatest tests of all time.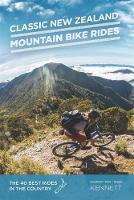 $50.00
NZD
Category: Cycling
Since this book was first published in 1991, mountain bike events, tracks and bikes have undergone a stunning transformation - from pushing heavy fully-rigid clunkers along overgrown stock routes to whipping around purpose-built trails on lightweight full-suspension machines. And over that time, this bo ok has evolved, from a small black-and-white publication to the 416-pager you're holding now. This, the 10th edition of Classic New Zealand Mountain Bike Rides, has focused on our 40 favourite rides. They range from fantastically popular mountain bike parks like Whakarewarewa in Rotorua to the inspirational, multi-day, Old Ghost Road on the West Coast of the South Island. For each ride, you will find: * a detailed route description * Geographx 3D maps * elevation charts * essential tips and nearby services * the intriguing back story to these fabulous rides ...Show more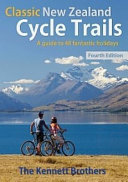 $30.00
NZD
Category: Cycling
Covers a nationwide network of the best biking holidays this stunning little country has to offer. Includes 23 Great Rides, 24 Heartland Rides and 30 connector rides.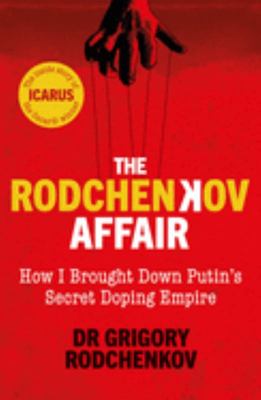 $40.00
NZD
Category: True Crime
Can one man take down an empire? The Rodchenkov Affair is a breathtaking real-life political thriller. As a leading chemical scientist and Director of the Moscow Anti-Doping Laboratory, Dr Grigory Rodchenkov was at the forefront of global efforts to detect drugs cheats in sport. Yet he was simultaneous ly running the most elaborate doping scheme in history, helping thousands of athletes and elite players evade detection. Then the cracks started to show, and Vladimir Putin sent him a chilling message . . . Icarus, the Oscar-winning Netflix film, followed Grigory Rodchenkov as he turned whistleblower, fled Russia and entered the US Witness Protection Programme. In this explosive memoir he reveals how everything he has exposed so far -- leading to Russia's double Olympic bans - is merely the tip of the iceberg. Drawn from diaries, official e-mails and memos smuggled out of Russia, The Rodchenkov Affair is the full story by the one man the Kremlin hoped would never talk about its quest to win at all costs. 'I am a patriot, yet I am a traitor. I am one of the reasons my country has won so many Olympic medals over the last decade, yet I am also the reason they are banned from the Olympics. I am a devoted husband and father, yet I have seen neither my wife or my children in two years. If you read the news, you will see that my name is everywhere, yet I myself am nowhere. I am known throughout Russia, yet I am a ghost. Living anonymously in an anonymous town, under the protection of the US government, in fear from my life, somewhere in America - the one country I tried my hardest to help my country beat, year after year, decade after decade' ...Show more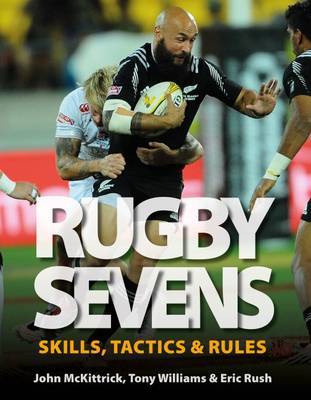 $29.99
NZD
Category: Sport
Sevens rugby is fast and free-flowing - which makes it a great game to play and to watch. With 100 + photographs and 35 diagrams, this book is ideal for players, coaches and fans. It is a truly international game, with tournaments bringing together teams and fans from around the world to create huge fes tival-like events. In 2016, Sevens makes its debut as an Olympic sport, introducing this exciting game to millions of new fans. Is a resource for those coaching and playing Sevens but is also written with those new to the game in mind. It describes how to enjoy playing Sevens, but also how to win, covering everything from choosing a team, coaching and conditioning, set formations and technical elements, through to tactics and the role of captain. ...Show more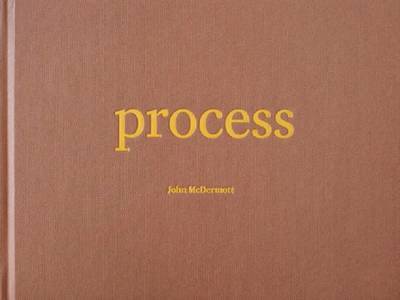 Process
by John McDermott & Michael Parmenter
$69.99
NZD
Category: Sport
Process is an exciting photographic record of The New Zealand Dance Company at work in the studio on projects including Shona McCullagh's Rotunda. John McDermott's 90 images are complemented by an introductory essay from leading New Zealand dancer and choreographer Michael Parmenter, and the book is des igned by Jessica Gommers. ...Show more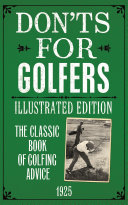 $22.00
NZD
Category: Sport
First published in 1925, this facsimile edition contains hundreds of entertaining tips for golfers of all ages and abilities. This pocket-sized facsimile edition contains hundreds of tips for golfers of all abilities. The advice, ranging from technique and fashion to etiquette on the course and in the C lub House, provides an entertaining snapshot of life in 1920s Britain. Handy tips include: Don't over-indulge yourself in eating and drinking during the non-golfing days, and then expect to work off excess by a good game of Golf. You may play Golf of sorts, but it will not be a good game. Don't make Golf your sole topic of conversation. There are a few otherwise quite intelligent persons who are non-golfers. You will never make converts if you bore non-players to distraction by for ever talking of the Royal and Ancient Game. Don't blame your clubs for faults of your own that may be easily corrected if you analyze your methods of using the implements. Don't keep up a running fire of conversation during the round. Golf is a game in which thought is necessary and silence is preferable to chatter. Don't irritate your opponent by wearing jazzy colors. To dazzle his eyes with a multi-colored pull-over or peace-disturbing golf stockings is to take a mean advantage. ...Show more